Mondo Ponds, PM Monday 22nd
I put up the notices on discarding fishing line at both parking lot entrances this afternoon.  Don't know how long they will last because all notices have a habit of being torn down within a day or so.
Not a nice subject and something I've had to take care of a number of times.  This afternoon I cleaned up someone's disgusting mess alongside the trail between the ponds.  I know nature can call unexpectedly, but just leave it in plain sight and then throw all their clean up material into the bushes is just plain ignorant.   Guess it takes all kinds to make up this world!
Saying from my camping group:  Let no man say to my shame that all was clean before I came.
Bill P.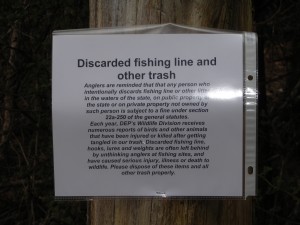 ---