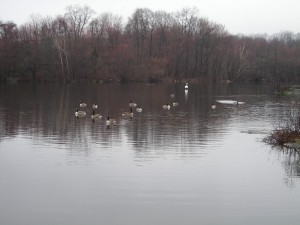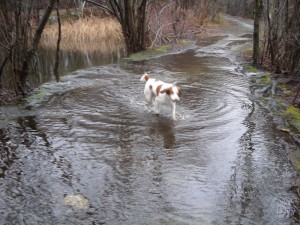 Mondo Ponds – Rainy Tuesday, March 23
You will need waterproof boots to walk the trails this morning.  It will be a lot nicer when the trails from the Naugatuck Parking lot have a nice layer of wood chips on them as the mud can be slippery in places.  The small upper pond is draining across the trail into the larger pond at a pretty good rate. 
The swallows were out in force this morning skimming over the large pond for insects.  There were more Canadian geese on the large pond this morning, I counted over two dozen.  I watched one drag out battle between two male Canadian geese.  It lasted for some time before one finally gave up.   It did one of those panic flights, half running and flapping across the top of the water to escape.  It settled down on the other side of the pond and the victor returned to the flock.   The larger swan, standing on a small submerged rock, seemed to be taking in all the commotion.   
I see the stand of pussy willows are in bloom along the trail that runs between the upper and larger pond.   For some reason the fuzzy buds are only at the top of the trees this year.  There are no buds on the lower branches; the wife seems to think that maybe the early warm weather has something to do with it.
Bill P.
---